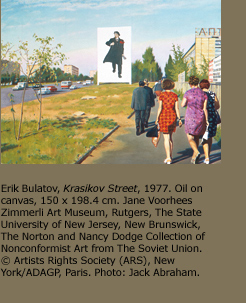 TOURS

Free with museum admission. Times are subject to change. For daily schedules, consult the electronic signboard located near the Admission Desk.

A Curatorial Eye
RUSSIA!
FRIS SEPT 23, OCT 21, AND DEC 16 @ 2 PM Valerie Hillings, Curatorial Assistant and co-curator of RUSSIA!

An Educator's Eye
FRIS OCT 7, NOV 4, 18, DEC 2, AND 9 @ 2 PM
Join members of the Guggenheim's Education staff for tours and discussions of the current exhibition.

RUSSIA!
SATURDAY THROUGH WEDNESDAY @ NOON, 1, 2, AND 3 PM
FRIDAY @ NOON, 1, AND 2 PM
Docents introduce masterpieces from Russia's top museums including icons, paintings, sculptures, and experimental contemporary art.


FILM SCREENING

From Gulag to Glasnost: The Art of Resistance
Documentary by Nina Zaretskaya, 2001. (39 min.)
SEPT 16, 2005–JAN 11, 2006
FRI–WED, ONGOING, 10 AM–4:30 PM

From Gulag to Glasnost: The Art of Resistance presents a rich picture of the so-called "second Russian avant-garde" that formed after Stalin's death in 1953. Based on a series of interviews with nonconformist artists from the former USSR, this documentary provides a broad spectrum of Soviet unofficial art by highlighting the diverse backgrounds and multiple styles of these artists and using footage of key works, many of them from the Dodge Collection at the Zimmerli Museum, and official Soviet period newsreels.

Screenings are held in the New Media Theater located in the Sackler Center for Arts Education. Free with museum admission.

Produced by Art Media Center TV Gallery, Moscow with the support of the Soros Foundation; premiered on the National Russian TV Channel Kultura.

MEMBER EVENTS

First Fridays
FRIS OCT 7, NOV, 4, DEC 2, JAN 6, 9 PM–1AM
Enjoy live music by NYC's hottest DJs, cocktails, and access to all of the galleries.
FREE for Guggenheim Members
Non-Member admission is $15, cash only at the door

LECTURES
Unless otherwise noted, tickets for lectures are $10 ($7 for members, students, and seniors). For more information, call the Box Office at (212) 423-3587.

RUSSIA! Lecture Series
The lecture series held in conjunction with RUSSIA! Brings leading scholars in the field of Russian art and culture to the Guggenheim Museum.

Yevgeny Yevtushenko
TUE OCT 25 @ 6:30 PM
"A poet in Russia is more than a poet." Yevgeny Yevtushenko was speaking of poetry's unique role in Russia, but the words apply equally to Yevtushenko himself. Russia's most famous living poet reads his works in Russian and English.

James Billington: Seeing the Soul of Russia through the Body of its Art
WED NOV 2 @ 6:30 PM
Librarian of Congress Dr. James Billington speaks on the role of art in Russia and why Russia does not fit neatly into the conventional narrative of Western art and history.

Albert Kostenevich
TUE NOV 29 @ 6:30 PM
Dr. Kostenevich, an internationally renowned State Hermitage curator, lectures on the famed collections of Impressionism and Post-Impressionism purchased in the twentieth century by the Moscow merchants Sergei Shchukin and Ivan Morozov.

RUSSIA! Panel Discussions

Different Generations, Intersecting Histories: Nonconformist Art in the Soviet Union
SAT SEPT 24 @ 2 PM
This panel explores the history of nonconformist art through the recollections of artists who participated in the movement. Participants include Grisha Bruskin, Vitaly Komar, Ernst Neizvestny, Vladimir Yankilevsky, and Vadim Zakharov.

American Collectors of Russian Art
WED OCT 5 @ 6:30 PM
This panel discusses tales of American collectors who have actively acquired Russian Art. Collectors Norton T. Dodge and Raymond Johnson, and curator Karen Kettering share compelling tales of outstanding collections.

Russian Art, International Artists
TUE NOV 15 @ 6:30 PM
Russian art has exerted a strong influence on international art throughout the twentieth century. Moderated by RUSSIA! co-curator, Valerie Hillings, this panel brings together three American artists, each with a distinctive style and different connections to Russian art and culture. Eleanor Antin discusses how the Ballet Russe inspired her Russian-ballerina performance persona. Barbara Bloom describes her recent installation in Russia inspired by the writings of Vladimir Nabakov. David Wilson, founder of the Museum of Jurassic Technology, Los Angeles, talks about his film and installation endeavors that explore Russian culture. (Please note: Frank Stella will not be participating on the panel; for information regarding this program change, call the Box Office at 212-423-3587).

Public & Artist Interactions
This initiative engages artists as collaborative partners in developing educational offerings.

Cory Arcangel: Icons From the 13th to the 21st Century and Back Again
SAT OCT 22, 1–4 PM
Artist Cory Arcangel leads a hands-on workshop in the Sackler Center. Participants explore the visual language of 13th–16th century icons in the exhibition RUSSIA!, then create personal desktop icons.

Vitaly Komar: Paradoxes of Collaboration in Art
TUE DEC 6 @ 6:30 PM
Artist Vitaly Komar speaks about his collaborations with American and Russian artists and his creation of SOTS Art, an unique version of Soviet Pop and Conceptual art.

FOR FAMILIES

RUSSIA! Family Days
SUNS OCT 9, NOV 6, 13, AND DEC 11
Reduced admission on RUSSIA! family days is $18 for families with children under 18 and up to two adults. Informative, family-oriented audio guides are available at an additional $4 per family.

Russian Portraits
SAT OCT 22, 1–4 PM
Discover Russian culture and history through portraiture. Gallery observations and activities are followed by a portrait-making workshop in the Studio Art Lab. Instructor: Maria Doubrovskaia, Sackler Educator. Open to children ages 7–13 with an adult companion. $20 for one child, plus one free adult ($15 for members'children); $15 per additional adult or child. To register, call (212) 423-3587.

What Makes Your Family Unique? Family Festival
SUN NOV 6, 1–4 PM
Through art-making, writing, and drama activities in the galleries, we invite you to share what is important and special in your family. Talk with museum educators, enjoy great art, and listen to music. Free with museum admission.

Photoshop Portraiture!
SAT NOV 12, 1–4 PM
Explore how portraiture evolves over several centuries in the exhibition RUSSIA!, then use digital photography and the latest version of Adobe Photoshop to construct personal family portraits inspired by works on view. Instructor: Rosanna Flouty, Manager for New Media. Open to children ages 7–13 with an adult companion. $20 for one child, plus one free adult ($15 for members' children); $15 per additional adult or child. To register, please call (212) 423-3587.

Egg Yolks and Gold
SAT DEC 3, 1–4 PM
Following an interactive gallery tour of RUSSIA!, families create a small painting on wood by mixing natural pigments with egg yolk and applying real 22k gold leaf using their breath and fish glue. Instructors: Patricia Miranda, Guest Educator and Jessica Wright, Education Manager, School Programs. Open to children ages 7–13 with an adult companion. $20 for one child, plus one free adult ($15 for members' children); $15 per additional adult or child. To register, call (212) 423-3587.

Works & Process
Faces of Russia
Sun & Mon, Dec 11–12 @ 8 PM
The world-renowned Dmitri Pokrovsky Ensemble draws from a variety of sources ranging from medieval Russian village songs to music by contemporary Russian composers. Wearing traditional costumes and performing on authentic instruments, the Ensemble performs a selection of these works to bring Russian culture – past and present – to life.

Family Holiday Benefit: The Nutcracker Sweet
MON DEC 5 @ 5:30 PM
The entire family enjoys excerpts from Tchaikovsky's classic and much beloved George Balanchine's The NutcrackerTM. New York City Ballet dancers perform, and NYCB principal Tom Gold narrates the evening. Holiday treats follow the performance. Tickets to this benefit are sold exclusively through the Membership Department. Please call (212) 423-3535.