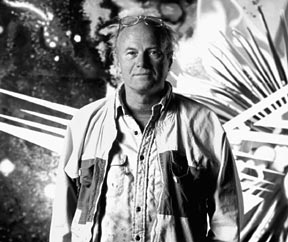 Rosenquist in the studio, 1988. Photo: Russ Blaise, courtesy of James Rosenquist.
Born in 1933 in Grand Forks, North Dakota, James Rosenquist studied art at the Minneapolis Institute of Arts as a teenager and at the University of Minnesota between 1952 and 1954, painting billboards during the summers. In 1955 he moved to New York to study at the Art Students League. He left the school after one year, and in 1957 returned to life as a commercial artist, painting billboards in Times Square and across the city. By 1960, he had quit painting billboards and rented a small studio space in Manhattan where his neighbors included artists Robert Indiana, Ellsworth Kelly, and Jack Youngerman. In 1962, he had his first solo exhibition at the Green Gallery in New York, and afterward was included in a number of groundbreaking group exhibitions that established Pop art as a movement.

Rosenquist achieved international acclaim with his room-scale painting, F-111 (1965). In addition to painting, he has produced a vast array of prints, drawings, and collages; his print Time Dust (1992) is thought to be the largest print in the world, measuring seven by 35 feet. The artist has received numerous honors; he was selected as the Art in America Young Talent Painter in 1963, appointed to a six-year term on the Board of the National Council on the Arts in 1978, and nominated as a member of the American Academy and Institute of Arts and Letters in 1987. Since his first early career retrospectives in 1972 organized by the Whitney Museum of American Art and the Wallraf-Richartz-Museum, Cologne, he has been the subject of gallery and museum exhibitions in the U.S. and internationally. He continues to produce large-scale commissions, including the recent three-painting suite The Swimmer in the Econo-mist (1997-98) for Deutsche Guggenheim, and has a painting planned for the ceiling of the Palais de Chaillot in Paris. From his early days as a billboard painter to his recent masterful use of abstract painting techniques, Rosenquist has demonstrated his interest in and mastery of color, line, and shape that continues to dazzle audiences and influence younger generations of artists.