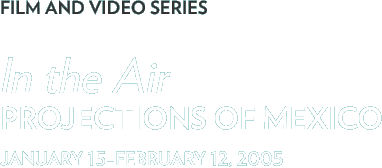 For complete screening schedule >>


In the Air: Projections of Mexico offers a look into the wealth of innovative work being made in Mexico today, featuring recent artists' videos, short films, documentaries, narratives, and hybrid genres alongside a selection of films from the history of popular and classical Mexican cinema. The series repositions the concept of national cinema in works by film- and videomakers who create or contest a uniquely Mexican mythology.

Taking Carlos Monsiváis's seminal essay on Mexican cinema, "Mythologies," as a point of inspiration, In the Air: Projections of Mexico looks at and responds to the core myths and stereotypes of Mexican culture as reflected on-screen. Historically, the Mexican film industry played a pivotal role in shaping notions of Mexican nationalism after the Revolution, creating its own Golden Age of cinema through which idealized and exoticized landscapes and characters—as much as stereotypes of class, gender, and subjugation—fixed a notion of mexicanidad in the minds of viewers. The exhibition takes as its point of departure the works produced during the Golden Age of Mexican cinema, commercial films of the 1930s and 1940s that immortalized the nationalistic tropes of the post-Revolutionary era. In addition to such serious works by renowned directors, a popular Mexican cinema drew crowds with serial films that catapulted particular characters to the status of national icons. The figure of El santo, for example, was a masked wrestler who fought and conquered evil in one episode after another. In these adapted or newly invented Mexican characters, one recognizes the hopes, anxieties, and, at times, the plain desire for escapism of the Mexican audience.

In recent years, distinctive voices in Mexican cinema have gained international acclaim, as writers and directors craft slyly revisionist approaches to the grand Mexican mythologies. Additionally, a new generation of prominent contemporary artists, such as Carlos Amorales, Miguel Calderon, Teresa Margolles, and Rubén Ortiz Torres and Eduardo Abaroa, are here featured with works adapted for theatrical presentation from a range of installation, performance, and mixed-media practices and formats. Also reflected in the program are current filmmakers and single-channel video artists who work in diverse styles, from cinema verité realism to hybrids of fiction and documentary genres. Indigenous film- and videomaking initiatives have led to talented new voices from the many tribes, regions, and languages that comprise Mexico. Their innovative documentary and narrative work is represented in this film series as well. All these artists offer fresh approaches to the creation of a story, as frequently exploding myths as generating bold, new ones. In the Air: Projections of Mexico provides a rich opportunity to examine the core myths and stories that have been consciously and unconsciously embedded in the grand screen tradition of Mexico.

—Maria-Christina Villaseñor

Curated by Maria-Christina Villaseñor, Associate Curator of Film and Media Arts, Solomon R. Guggenheim Museum, with Carlos A. Gutiérrez, Co-Director, Cinema Tropical.

The Guggenheim's film and video programs are supported, in part, by The New York State Council on the Arts, a state agency.

Special thanks to the Festival InternaciŪnal de Cine de Morelia.

Tickets are FREE for Guggenheim members. Become a member today by calling (212) 423-3535.

Tickets are FREE with museum admission and available on a first-come, first-served basis.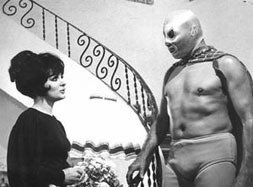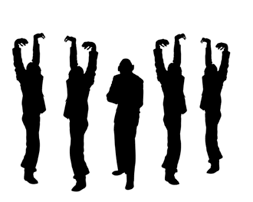 Above: Alfonso Corona Blake and Manuel San Fernando, El Santo contra las mujeres vampiros (El Santo vs. the Vampire Women, 1962).

Below: Carlos Amorales, The Forest (2003). Detail from video. Photo courtesy the artist.

In collaboration with Creative Time, Carlos Amorales's work is presented in their ongoing series The 59th Minute: Video Art on the NBC Astrovision by Panasonic in Times Square, through January 31. Visit www.creativetime.org for more information.