Learning Through Art/The Guggenheim Museum Children's Program (LTA) culminates each academic year with a special exhibiton of artworks and writings created by students who participated in the program. Founded in 1970 by Natalie K. Lieberman, LTA was created in response to the elimination of arts education in public schools. Since its inception, the program has reached over 120,000 schoolchildren and today serves more than 4,000 students annually.Its workshops are designed to increase basic academic, communication, and critical-thinking skills, develop self-efficacy and self-esteem, and foster an enthusiasm for learning in underserved elementary school children.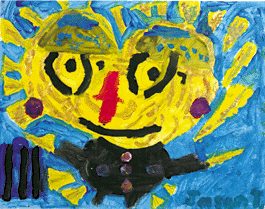 Detail of drawing by a second-grade student at
P.S. 88 in Queens, New York
Photo by Ellen Labenski
A Year with Children presents works created by students from approximately 60 classes in New York City's five boroughs, as well as from 1998-1999 educational partner programs in Mexico City; Monroe, Louisiana; Padua, Italy; Trenton, New Jersey; and Bilbao, Spain. The projects reflect a wide array of artistic disciplines, mediums, and subjects, inspiring adults and children who visit the exhibition every year.
For more information about supporting Learnng Through Art, call Joanna Handelman at (212) 423-3699.