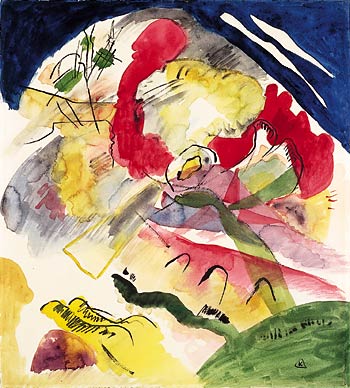 Perhaps no other artist has been more closely linked to the history of the Solomon R. Guggenheim Museum than Vasily Kandinsky. A pioneer of abstraction, Kandinsky believed that the task of the painter was to convey a subjective, inner world, rather than to imitate reality. Particularly inspired by the work and writing of Kandinsky, Hilla Rebay—artist, art adviser to Solomon R. Guggenheim, and the museum's first director—promoted non-objective painting above all other forms of abstraction. Rebay introduced Guggenheim to Kandinsky at the artist's studio at the Dessau Bauhaus in the summer of 1929, setting into motion a period of continuous acquisition by Guggenheim of Kandinsky's works.

This presentation features a selection of watercolors from the Guggenheim's extensive and renowned holdings of works by Kandinsky and includes important examples from the Hilla von Rebay Foundation collection, which has been housed at the Guggenheim since 1970. Whether viewed as independent works or as studies for oil paintings, these watercolors chart the evolution of Kandinsky's oeuvre: his works from the 1910s, when images of landscapes and seascapes still appeared; his geometric abstractions of the 1920s and 1930s; and his final works of the 1940s, when biomorphic images entered his rich vocabulary of forms. In these watercolors, as in all of his works, Kandinsky displayed an extraordinary degree of experimentation and a command over the unique qualities of the medium.

Study for Painting with White Lines (Bild mit weissen Linien), 1913. Watercolor, india ink, and pencil on paper, 15 11/16 x 14 1/8 inches. Solomon R. Guggenheim Museum, Gift, Solomon R. Guggenheim. 47.1057. Vasily Kandinsky © Artists Rights Society (ARS), New York/ADAGP, Paris.