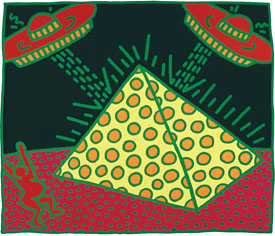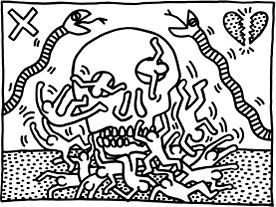 Top: Keith Haring, Untitled, 1983. Silkscreen, 42 x 50 inches. © The Estate of Keith Haring.

Bottom: Keith Haring, Untitled, August 9, 1983. Sumi ink on paper, 38 x 50 inches. © The Estate of Keith Haring.

As a special complement to The Aztec Empire exhibition, the Sackler Center for Arts Education at the Guggenheim presents Keith Haring: New Wave Aztec. The exhibition features a diverse selection of the artist's drawings, objects, and prints.

Haring was a student of art history in its broadest sense. He was particularly interested in semiotics (the study of signs) and art from a variety of cultures, including Pre-Columbian, Egyptian, and Asian. As a result, Haring's work includes many symbols and icons that deeply resonate with the objects on display in The Aztec Empire. The influence of Aztec imagery on his compositions underscores the contemporary relevance of the ancient Aztec empire. Haring's street-based art embodies a creative synergy, bringing together distinct cultures and eras.

EXHIBITION HOURS: SAT–MON, 10 AM–5 PM;
FRI, 10 AM–8 PM

Keith Haring: New Wave Aztec was organized by the Sackler Center for Arts Education at the Guggenheim in concert with the Keith Haring Foundation.

This exhibition and related programming is supported by the Keith Haring Foundation.


PUBLIC PROGRAMS

Panel Discussion
The Visual Anthropology of Keith Haring
TUES NOV 9 @ 6:30 PM
Art historian Suzi Gablik has described Keith Haring's work as "complex cultural archeology" in a style that she termed "New Wave Aztec." This panel addresses Haring's relationship with ethnographic art against the background of the ancient civilizations, which directly and indirectly influenced his work and the ways in which he brought new relevance to alternative art models in the New York art world of the 1980s.

Participants: Robert Farris Thompson, Yale University; Maarten Van de Guchte, The Cummer Museum of Art & Gardens. Moderated by Julia Gruen, Keith Haring Foundation

Family Workshop
Life Lines: Finding Inspiration in Keith Haring's Art
SAT OCT 23, 1–4 PM
This family workshop, open to children ages 7 to 13 with an adult companion, focuses on the lines and symbols used in Haring's work. The workshop engages participants in viewing and discussing the artist's work and explores various types of lines to create images of importance to family members. Participants transform their drawings into linoleum prints inspired by Haring's work.

Instructor: Wan Ling Li, Art Educator. $15 for one child, plus one free adult ($10 for members' children); $10 per additional adult or child. To register, please call (212) 423-3637.

For Students
Keith Haring: New Wave Aztec
Flash-Based High School After-School Program
MONS, OCT 25–DEC 6, 3:45–6 PM
PUBLIC PRESENTATION: WED DEC 8, 5–7 PM
After viewing the exhibition The Aztec Empire, students explore original drawings and prints which illustrate artist Keith Haring's interest in ancient art traditions. As participants develop their own image-based vocabulary, they learn how to use Flash MX to animate line-based drawings for the Web.

Open to high school students ages 14–18. $35 fee includes all materials. Call Rosanna Flouty, Education Manager for New Media at (212) 423-3532 for an application.

Educators' Workshop
Aztecs and Haring:
Symbols and Communication across the Ages
WED DEC 1, 3:30–5:30 PM
Throughout history symbols and signs have been used to communicate. Educators examine symbolic imagery within the Guggenheim exhibitions The Aztec Empire and Keith Haring: New Wave Aztec, while participating in activities in the galleries. The two exhibitions illustrate the use of symbols for communication in different time periods. Educators use these themes and ideas to make curriculum connections to meet their needs in the classroom.

Instructor: Jessica Wright, Education Manager, School Programs. Fee is $20 per educator. To register, call (212) 423-3637.