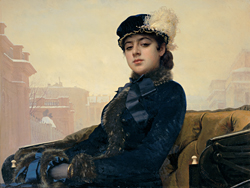 RUSSIA!
March 28–September 10, 2006

RUSSIA!, the fall blockbuster at the Solomon R. Guggenheim Museum, continues its tour to the Guggenheim Museum Bilbao. The exhibition presents great masterworks of Russian art from the 14th century to the present as well as first-class western European paintings and sculptures from Russian imperial and private collections of the 18th through early 20th centuries. Highlights of this expansive presentation include rare and impressive religious icons from the 14th through 17th centuries; monumental academic pictures from the 19th century; innovative avant-garde works from the early 20th century; and epic Socialist Realist paintings from the Soviet era.



Ivan Kramskoy, Unknown Woman, 1883. Oil on canvas, 75.6 x 99.1 cm. The State Tretyakov Gallery, Moscow. Photo: © The State Tretyakov Gallery, Moscow.