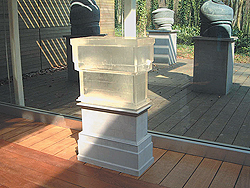 Thinking Big: Concepts for Twenty-First-Century British Sculpture
September 6, 2002–January 6, 2003

Eighteenth-century poet Lewis Duncombe wrote: "The loft oak from a small acorn grows." Comprised almost entirely of maquettes, Thinking Big puts faith in those immortal words. Although these small-scale models may be considered finished works in their own right, the majority are intended as "dress rehearsals" for larger-scale projects. Among the nearly 80 models on display is one for Rachel Whiteread's Monument (2001), her acclaimed public commission for London's Trafalgar Square. Equally notable are Tony Cragg's several marble and bronze maquettes and one large bronze work, all of which share the title One Way or Another (2002) and suggest the speed of human form in motion.



Rachael Whiteread, maquette for Monument, 2001. Cast resin, 23 x 13 x 6 inches.