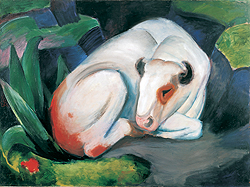 The Spiritual Landscape
December 13, 2003–February 8, 2004

Before abstraction became the prevailing aesthetic mode in the early years of the 20th century, many painters continued to turn to natural landscape for inspiration. At the seaside, in the forests and mountains, and in the animals that inhabited those unspoiled surroundings, they found a language to articulate the inarticulable: their inner visions, personal experiences, and most of all, their spirituality. For Vasily Kandinsky, color became highly symbolic in this regard (blue signifying the spiritual, yellow the sensual), and it was through the use of bold, expressionistic hues that he, Franz Marc, Gabriele Münter, Emile Nolde, and other artists felt they could best communicate the mystical.

The Spiritual Landscape draws upon the Guggenheim's particulary rich holdings of works by Kandinsky and his circle. The show arrives at The Peggy Guggenheim Collection, Venice, from Galleria Gottardo, Lugano, where it was on display in fall 2003.



Franz Marc, White Bull, 1911. Oil on canvas, 39 3/8 x 53 1/4 inches. Solomon R. Guggenheim Museum, New York 51.1312.