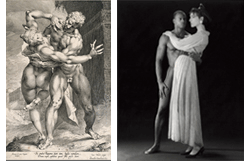 Robert Mapplethorpe and the Classical Tradition
July 24–October 17, 2004



"If I had been born one or two hundred years ago, I might have been a sculptor, but photography is a very quick way to see, to make sculpture." Throughout his career, Robert Mapplethorpe used photographs to interpret the human body as sculptural form.

Robert Mapplethorpe and the Classical Tradition, which also travels to St. Petersburg and Moscow before arriving at the Solomon R. Guggenheim Museum in New York in 2005, explores the relationship between Mapplethorpe's approach to the human figure and classical figurative styles, particularly Mannerist engravings and sculpture. Organized by Germano Celant, Senior Curator of Contemporary Art at the Guggenheim, and Arkady Ippolitov, Curator of Italian Prints at the Hermitage, this collaborative exhibition pairs mostly 16th–century Flemish works from the Hermitage's superb collection with selections from the Guggenheim's unmatched holdings of Mapplethorpe photographs.





ABOVE LEFT: Jan Harmensz Muller, after waxworks by Adriaen de Vries, A Roman Abducting a Sabine Woman, from The Rape of the Sabine Women, 16th century. Engraving, 17 11/16 x 11 inches. State Hermitage Museum, St. Petersburg

ABOVE RIGHT: Robert Mapplethorpe, Thomas and Dovana, 1986. Gelatin-silver print, 24 x 20 inches. Robert Mapplethorpe Foundation. Photo: Copyright © Robert Mapplethorpe Foundation. Reproduced with permission. All rights reserved.