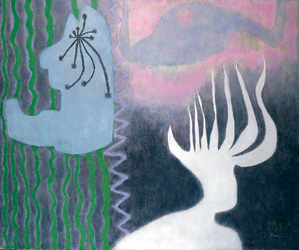 William Baziotes: Paintings and Drawings, 1934–1962
September 5, 2004–January 9, 2005



Almost 60 years to the day since his first one-person exhibition opened at Peggy Guggenheim's museum/gallery Art of This Century, a retrospective of William Baziotes will open at the Peggy Guggenheim Collection, Venice. William Baziotes: Paintings and Drawings, 1934–1962, the first exhibition of this Abstract Expressionist artist's work to be presented in Europe and arguably the most complete ever mounted, is curated by Michael Preble with the support of the artist's estate and widow, Ethel Baziotes.

Baziotes made works of extraordinary beauty and psychological depth while drawing inspiration from various sources, such as antiquity, natural history, mythology, poetry, Cubism, and Surrealism. This selection of 60 paintings and watercolors includes works dating from the artist's 1944 debut along with generous loans from private and public collections. The exhibition coincides with a presentation of architectural drawings and photographs related to Frederick Kiesler's design and development of Art of This Century, which is presented in collaboration with the Frederick Kiesler Foundation, Vienna.





William Baziotes, The Flesh Eaters, 1952. Oil and charcoal on canvas, 60 x 72 1/8 inches. The Metropolitan Museum of Art, New York.