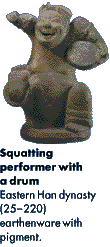 Honorary Committee
Members of the Honorary Committee supporting China: 5,000 Years include four committee co-chairmen: Dr. Henry A. Kissinger, former United States Secretary of State; Ambassador Li Daoyu, Ambassador of the People's Republic of China to the United States; Ronald O. Perelman, President, Solomon R. Guggenheim Foundation; and Maurice Greenberg, Chairman, AIG.

Expert Advisors
The Guggenheim Museum has received the support and advice of leading scholars in the field, who have also contributed essays to the catalogue. For the traditional section they are Jenny So, Freer Gallery of Art, Washington D.C.; James Cahill, University of California, Berkeley; Zhao Feng, National Silk Museum, Hangzhou; Michael Knight, Asian Art Museum of San Francisco; Wu Hung, University of Chicago; Peter Sturman, University of California, Santa Barbara; Helmut Brinker, University of Zurich; Elizabeth Childs-Johnson, New York University; Regina Krahl, Royal Museums of Art and History, Brussels; Patricia Ebrey, University of Washington, Seattle; Zhang Wenbin, National Administration for Cultural Heritage; Ma Chengyuan, Shanghai Museum; Wang Qingzheng, Shanghai Museum; Su Bai, Beijing University; Liu Jiu'an, Palace Museum, Beijing; and Yu Weichao, National Museum of Chinese History, Beijing.


For the modern section they are Julia F. Andrews, Ohio State University; Kuiyi Shen, Ohio State University; Jonathan Spence, Yale University; Shan Guolin, Shanghai Museum; Christina Chu, Hong Kong Museum of Art; Xue Yongnian, Central Academy of Fine Arts, Beijing; and May-ching Kao, Chinese University of Hong Kong.