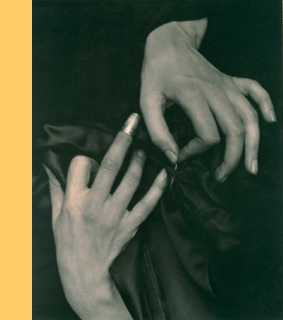 In October 1993, Henry M. Buhl purchased a photograph by Alfred Stieglitz of Georgia O'Keeffe's hands. This photograph would come to be the cornerstone of a private collection that now includes over one thousand images by the medium's foremost practitioners as well as little-known and emerging artists. Focusing on the theme of the hand, Buhl has gathered images spanning the history of photography, from a photogenic drawing negative made in 1840 by William Henry Fox Talbot to serial Polaroids made in 2002 by Cornelia Parker. The collection also encompasses a comprehensive range of photographic practices, including scientific, journalistic, and fine-art photography, with a strong component of contemporary art.

The Buhl Collection's theme of the hand illuminates the very nature of photography, as well as unique aspects of collecting photographs. This exhibition features over 170 objects by 150 artists drawn from The Buhl Collection and grouped into both thematic sections and historically based categories. The work demonstrates the prevalence of the hand as a photographic theme, a result, in part, of photography's easy ability to capture fragments and detail, as well as ephemeral movement.

A significant part of Speaking with Hands: Photographs from The Buhl Collection is devoted to portraits of hands that function as metonymic representations of the person. When the subject is identified—whether artist, performer, or athlete—the portraits purport to reveal the nature of the sitters' professions and the sources of their celebrity. Conventions of theatrical gesture are featured in portraits of actors and dancers, while the expressive gesticulations of private individuals are recorded in poetic representations of everyday life. Photo journalistic images depict the rhetorical gestures employed by charismatic political figures. The hand is disproportionately the bearer of meaning in these documentary photographs, even though it is only a part of a larger scenario.

Speaking with Hands also examines abstract and manipulated photographs from the 1920s to the 1950s in which the hand appears in a fragmented and fetishized form. Many of these pieces were created within the context of, or deeply influenced by, avant-garde artistic movements, including Constructivism, Surrealism, and the Bauhaus. Their technical experimentation yielded photograms that directly present the actual hand, as well as photomontages that deconstruct and recompose hands in evocative ways.

A large part of The Buhl Collection is devoted to art of the last 25 years. Most of this contemporary work is conceptually oriented and distinct from earlier photographs in its large scale and use of color. In the 1970s, many conceptual and performance artists employed photography to document the intersection of their bodies and their environment and to produce a deadpan rendering of daily life and experience. Subsequent photographs reflect an appetite for risk taking and the grotesque as artists incorporated performance gestures into representations of the body (usually their own). Another aspect of the contemporary work in Speaking with Hands is the interest, dating from the 1980s, in the visual representation of language. Such pieces, which appropriate media representations of hand gestures or juxtapose photographic images and texts, form a prelude to the predominantly conceptually oriented work of the 1990s in the exhibition.

This page: Alfred Stieglitz, Hands with Thimble, 1920. Gelatin-silver print, 9 1/2 x 7 1/2 inches. © 2004 The Georgia O'keeffe Foundation/Artists Rights Society (ARS), New York.

Intro page, from left to right: Marc Riboud, Jan Rose Kasmir at a Demonstration against the Vietnam War, Washington D.C., 1967. Gelatin-silver print, 10 x 15 inches; Alfred Stieglitz, Hands with Thimble, 1920. Gelatin-silver print, 9 1/2 x 7 1/2 inches. © 2004 The Georgia O'Keeffe Foundation/Artists Rights Society (ARS), New York; Gregory Crewdson, Untitled, 1995. C-print, 40 x 50 inches; Nadar, Paul Legrand, ca. 1855. Salt print, 8 1/2 x 6 1/4 inches; Gordon Parks, Pastor Ledbetter, Metropolitan Baptist Church, Chicago, 1953. Gelatin-silver print, 20 x 28 inches; Herbert Bayer, The Lonely Metropolitan, 1932. Gelatin-silver print photomontage with gouache and airbrush, 16 1/8 x 11 3/4 inches. © 2004 Artists Rights Society (ARS), New York/VG Bild-Kunst, Bonn; Jeanne Dunning, Long Hole, 1994–96. Cibachrome, 15 3/4 x 24 1/2 inches.