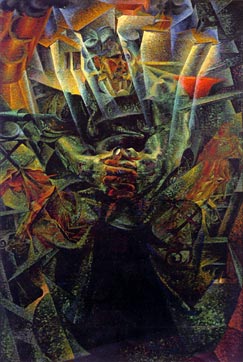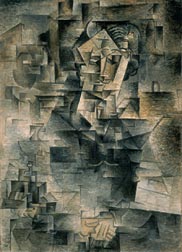 In 1912, Umberto Boccioni created his pivotal masterpiece Materia in Milan, a city that was quickly modernizing and that represented the ideal vision of the new metropolis of the Futurists. Futurism was an artistic and literary movement that celebrated the machine, rejected the art of the past, and even advocated the destruction of museums. For two years Boccioni had concentrated on developing his Futurist theory of painting, which both drew inspiration from and reacted against the innovations of Parisian avant-garde artists. His investigations culminated in the dynamic, faceted forms of Materia, in which the artist portrayed his mother in an interior space set against a balcony of their Milan apartment, integrating the events seen outside with those within.

Boccioni's Materia: A Futurist Masterpiece and the Avant-garde in Milan and Paris takes this seminal painting as its centerpiece and investigates a series of core themes such as Boccioni's evolution from Divisionism to Futurism, the exchanges between Futurism and Cubism, and the relationship between Boccioni's painting and sculpture. Through an exploration of related works by Boccioni and his counterparts in the greater European sphere, this exhibition demonstrates the key role Boccioni played within the history of Modernism, broadening the current perspective on his work and, by extension, the Italian Futurist movement.

During the first decade of the 20th century, Boccioni worked in a Divisionist idiom. Divisionism was the Italian response to French Neo-Impressionism, devoted to capturing the effects of light with the application of individual daubs of pigment that took shape from a distance. Reflecting the lessons learned from his slightly older Futurist counterpart, Giacomo Balla, Boccioni covered his canvases in brushstrokes of color and used light to dissolve form rather than emphasize volume. However, by 1910, Boccioni had developed a specifically Futurist mode of painting, as he pronounced in "Futurist Painting: Technical Manifesto" of that year, which was followed by his "Technical Manifesto of Futurist Sculpture" in 1912. This radical shift in Boccioni's artistic conception was largely influenced by firsthand experience of iconic paintings by members of the Parisian avant-garde, including Pablo Picasso's 1910 Daniel-Henry Kahnweiler and possibly Marcel Duchamp's 1912 Nude Descending a Staircase (No. 2).

While the Cubists showed objects or figures in a static fashion from multiple viewpoints, Boccioni placed his forms at the center of an activated space in which multiple actions and perspectives merged simultaneously. Through his
exploration of color, the sculptural qualities of form, the multidimensionality of space, and the problematics of movement, he crystallized his ideas regarding the dynamism of matter and the fusion of interior and exterior spaces—notions integral to the Futurists' synthetic conceptualization of motion, simultaneity, and spatial relationships.

Rather than simply present Boccioni's production as an independent occurrence, this exhibition includes works by Georges Braque, Robert Delaunay, Duchamp, Albert Gleizes, Juan Gris, Fernand Léger, and Picasso, whose Cubism was at the center of the contemporary art debates Boccioni responded to directly. Sculpture, drawings, and archival documents illuminate Boccioni's working process and the relationships between works he executed in diverse media.

The exhibition is organized by Laura Mattioli Rossi, Guest Curator, with Vivien Greene, Associate Curator, Solomon R. Guggenheim Museum.

Umberto Boccioni, Materia, 1912. Oil on canvas, 89 x 59 inches. Gianni Mattioli Collection, On long-term loan to the Peggy Guggenheim Collection, Venice.

Pablo Picasso, Daniel-Henry Kahnweiler, 1910. Oil on canvas,
39 13/16 x 28 7/8 inches. The Art Institute of Chicago, Gift of
Mrs. Gilbert W. Chapman in memory of Charles B. Goodspeed.